Collaborative Art Space: Two Zero Two One virtual exhibition is live till 14 January 2022.
Collaborative Art Space: Two Zero Two One collaboratively curated by artist Kirti Chandak & Malavika Mandal Andrew, is an international collaborative art project wherein selected artists over 18 years of age will work in trios, collaborating to create three original artworks, along with each also producing an individual piece all on the theme of "Experiences in Lockdown", exploring and expanding on the artist's experiences in the worldwide lockdown that we have found ourselves in since early 2020.
The in-person exhibition for "Two Zero Two One" was held at TASMAI, Pondicherry with Lisa Talbot Barre, Consul general of France in Pondicherry & Chennai as the guest of honour from 5th December 2021 to 19th December 2021.
Participating Artists
Akshata Mokashi, India – Website
Aneri Gandhi, India – Website
Bikash Acharjee, India
Brandon S Gellis, USA – Website
Chuguli Kumar Sahoo, India
Debadyuti Saha, India – Website
Dolly Biswas, India
Harini Kumar, India – Instagram
Janardhan Rao Havanje, India
Kirti Chandak, India – Website
Kousani Basu, India
L. Naveena Devi Singh, India
Lasse van den Dikkenberg, Netherlands – Website
Malavika Mandal Andrew, India – Website
Meena Schaldenbrand, USA – Website
Mihika Row, India – Instagram
Negin Ehtesabian, Iran – Website
Pallavi Subhash, India – Instagram
Patrick Lichty, USA – Website
Prajakta Kaushal Patil, India – Website
Raghavan Nagarajan, India
Rani Robison, USA – Website
Ravi Vishwakarma, India – Instagram
Artworks Created
Collaboration, MIXED MEDIA
Akshata Mokashi, Ravi Vishwakarma & Sushobhita Das
Our Ghar
8.3 x 11.7 inch (h x w)
Collaboration, MIXED MEDIA
Ravi Vishwakarma, Sushobhita Das & Akshata Mokashi,
Where To Go
12 x 9 inch (h x w)
Collaboration, MIXED MEDIA
Sushobhita Das, Akshata Mokashi & Ravi Vishwakarma
Spiritual Siblings
12.4 x 9 inch (h x w)
individual, tapestry
Akshata Mokashi
Testimony of Nature
11.7 x 8.3 inch (h x w)
individual, MIXED MEDIA
Ravi Vishwakarma
Pursuing Posetive
8.3 x 11.7 inch (h x w)
individual, MIXED MEDIA
Sushobhita Das
New Beginnings
8.2 x 11.6 inch (h x w)
Collaboration, digital art
Aneri Gandhi, Rohan Dumbre & Siddhartha Shil
It's Okay
8.3 x 11.7 inch (h x w)
Collaboration, digital art
Rohan Dumbre, Siddhartha Shil, Aneri Gandhi
Urge
16.5 x 11.7 inch (h x w)
Collaboration, digital art
Siddhartha Shil, Aneri Gandhi
Urge
16.5 x 11.7 inch (h x w)
individual, digital art
Aneri Gandhi
Rumination
11.7 x 8.3 inch (h x w)
individual, video
Rohan Dumbre
Voices in my head
9 x 16 inch (h x w)
individual, digital art
Siddhartha Shil
Maha Shunnya
11.7 x 11.7 inch (h x w)
Collaboration, digital art
Bikash Acharjee, Mihika Row & Patrick Lichty
Exquisite Circle #2
11.8 x 8.3 inch (h x w)
Collaboration, digital art
Mihika Row, Patrick Lichty & Bikash Acharjee
Exquisite Circle #1
11.8 x 8.3 inch (h x w)
Collaboration, digital art
Patrick Lichty, Bikash Acharjee & Mihika Row
Exquisite Circle
11.8 x 8.3 inch (h x w)
individual, digital art
Bikash Acharjee
Inside the circle & out of the box – D1
11.8 x 8.3 inch (h x w)
individual, digital art
Mihika Row
Forever Rain
8.3 x 11.8 inch (h x w)
individual, digital art
Patrick Licthy
Confinement Spaces: Louvre Abu Dhabi
11 x 8 inch (h x w)
Collaboration, digital art
Brandon S. Gellis, Raghavan Nagarajan & Debadyuti Saha
The Art of Resistance
8.3 x 11.8 inch (h x w)
Collaboration, digital art
Debadyuti Saha, Brandon Gelis & Raghavan Nagarajan
Act of pushing Wall
8 x 12 inch (h x w)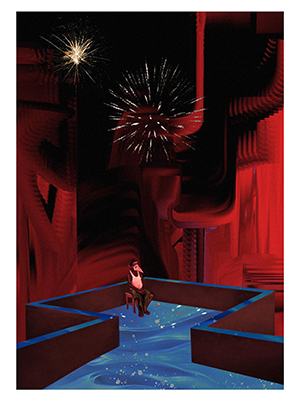 Collaboration, digital art
Raghavan Nagarajan & Debadyuti Saha, Brandon S. Gellis
All Around Me
11.7 x 16.5 inch (h x w)
individual, digital art
Brandon S. Gellis
Observation of A Peacock on an Iceberg
8.3 x 11.8 inch (h x w)
individual, video
Debadyuti Saha
Liminality
12 x 16 inch (h x w)
individual, video
Raghavan Nagarajan
Meditating for Protection
11.8 x 8.3 inch (h x w)
Collaboration, MIXED MEDIA
Chuguli Kumar Sahoo, Harini Kumar & Santhi Siri
Musician
8.3 x 11.7 inch (h x w)
Collaboration, MIXED MEDIA
Harini Kumar, Santhi Siri & Chuguli Sahoo
Caught in the Chaos
11.7 x 8.3 inch (h x w)
Collaboration, MIXED MEDIA
V Santhi Siri, Chuguli Sahoo & Harini Kumar
Never before
11.7 x 8.3 inch (h x w)
individual, MIXED MEDIA
Chugali Kumar Sahoo
Reverence
11.5 x 16.5 inch (h x w)

individual, MIXED MEDIA
Harini Kumar
Bound and Stifled
11.7 x 8.3 inch (h x w)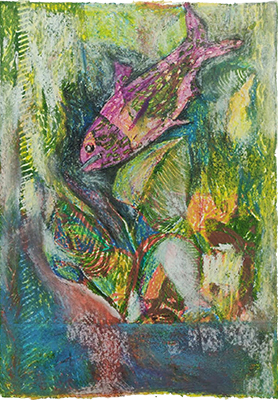 individual, MIXED MEDIA
V Santhi Siri
Lost in dreams
12 x 8 inch (h x w)
Collaboration, MIXED MEDIA
Dolly Biswas, Sk Sahiid Hossain & Kirti Chandak
Shock
11 x 8 inch (h x w)
Collaboration, MIXED MEDIA
Kirti Chandak, Dolly Biswas & SK Shahid Hossian
Transformation vs Vaccination
8.3 x 11.8 inch (h x w)
Collaboration, MIXED MEDIA
SK Sahid Hossain, Kirti Chandak & Dolly Biswas
Migrant worker
8.5 x 11.5 inch (h x w)
individual
Dolly Biswas
Lost Hues
11 x 8 inch (h x w)
individual
Kirti Chandak
Masked Reality
8.3 x 11.7 inch (h x w)
individual
Sk Sahiid Hossain
Manner
11.7 x 8.3 inch (h x w)
Collaboration, MIXED MEDIA
Janardhan Havanje, L. Naveena Devi Singh & Sunita Gupta
Tranquil
16 x 12 inch (h x w)
Collaboration, MIXED MEDIA
L. Naveena Devi Singh, Sunita Gupta & Janardhan Havanje
The mystical Garden – Unframed Unlocked – II
11.7 x 8.3 inch (h x w)
Collaboration, MIXED MEDIA
Sunita Gupta, Janardhan Rao Havanje & L. Naveena Devi Singh
Emotions
8.3 x 11.7 inch (h x w)
individual
Janardhan Rao Havanje
Masked
8 x 10 inch (h x w)

individual, MIXED MEDIA
L. Naveena Devi Singh
The mystical garden.Unframed Unlocked.
11.7 x 8.3 inch (h x w)
individual, MIXED MEDIA
Sunita Gupta
Tranquility
11.7 x 8.3 inch (h x w)
Collaboration, MIXED MEDIA
Kousani Basu, Prajakta Kaushal Patil & Subarna Das
Stucked
8.3 x 11.7 inch (h x w)
Collaboration, MIXED MEDIA
Prajakta Patil, Subarna Das & Kousani Basu
Space
8.3 x 11.7 inch (h x w)
Collaboration, MIXED MEDIA
Subarna Das, Kousani Basu & Prajakta Kaushal Patil
Serenity
8.3 x 11.7 inch (h x w)
individual, MIXED MEDIA
Kousani Basu
Untitiled
8.3 x 11.7 inch (h x w)

individual, MIXED MEDIA
Prajakta Kaushal Patil
Peace
11.7 x 8.3 inch (h x w)
individual, MIXED MEDIA
Subarna Das
Shattered
8.3 x 11.7 inch (h x w)
Collaboration
Lasse van den Dikkenberg, Taro Sakamoto & Pallavi Subhash
A Narrow Path
8.5 x 7.5 inch (h x w)
Collaboration, MIXED MEDIA
Pallavi Subhash, Lasse van den Dikkenberg & Taro Sakamoto
Circumstances
8.2 x 7 inch (h x w)
Collaboration, sculpture
Taro Sakamoto, Pallavi Subhash & Lasse van den Dikkenberg
voice-unvoice
9 x 16 inch (h x w)
individual, WOOD-CUT
Lasse van den Dikkenberg
Pongal Memories
11.7 x 8.3 inch (h x w)
individual, sculpture
Pallavi Subhash
DAWN, a self portrait.
11.8 x 8.3 x 5.5 inch (h x w x d)
individual
Taro Sakamoto
Voice-gravity
8.3 x 11.7 inch (h x w)
Collaboration, MIXED MEDIA
Malavika Andrew, Meena Schaldenbrand & Somen Debnath
Locked in Squares and Rectangles
8.3 x 11 inch (h x w)
Collaboration, sculpture
Somen Debnath, Malavika Andrew & Meena Schaldenbrand
Hope
11 x 8.3 inch (h x w)
individual, MIXED MEDIA
Malavika Mandal Andrew
Likes and Love
6.5 x 11.5 inch (h x w)
individual, sculpture
Somen Debnath
Untitled
13 x 8 cm (h x w)
individual, MIXED MEDIA
Meena Schaldenbrand
Escaping The Lockdown
11 x 8.5 inch (h x w)
Collaboration, digital art
Negin Ehtesabian, Rani Robison & Suresh K. Nair
It Shall Pass Too
8.3 x 8.3 inch (h x w)
Collaboration, digital art
Rani Robison, Suresh K. Nair & Negin Ehtesabiannn
Map of Consciousness
11.8 x 8.2 inch (h x w)
Collaboration, digital art
Suresh K. Nair, Negin Ehtesabian & Rani Robison
Untitled
8.2 x 11.8 inch (h x w)
individual, digital art
Negin Ehtesabian
Daily Monalisa
12.5 x 7.5 inch (h x w)
individual, digital art
Rani Robison
A Women Like You
11.8 x 8.3 inch (h x w)
individual, digital art
Suresh K. Nair
Untitled
8.3 x 8.3 inch (h x w)