Packaged to Survival
4 x 4 ft
By Aahana Srimani, Ina Bharadwaj, Karishma Chotrani, Saira Dua & Vashita Rungta
from, Modern High School International, Kolkata
Material used:
Plastic bottles, plastic packets, craps of cardboard, bottle caps, glass pieces, saw dust, CDs, twine
The use of waste materials in this artwork is a powerful statement to show the impact of human activity on the environment. With the ever-increasing use of plastics and other non-biodegradable materials, the risk to marine life has increased exponentially. As a part of this initiative, we wanted to showcase the extreme effects of human activity on aquatic species. The materials used for this project are waste products that primarily end up discarded into the sea, eventually posing a choking hazard to these marine animals, for example, plastic straws, bottles, caps, bubble wraps, cans. Through this project, we wanted to shed light on this extremely important and pressing issue, the struggle of the species to exist in this human congested environment. Our artwork shows the contrast between the harsh reality(below) and what we perceive on a superficial level which portrays the perfect aquatic marine life.
Price: On request.
The Team working on Packaged to Survival.
Aahana Srimani, Ina Bharadwaj, Karishma Chotrani, Saira Dua & Vashita Rungta.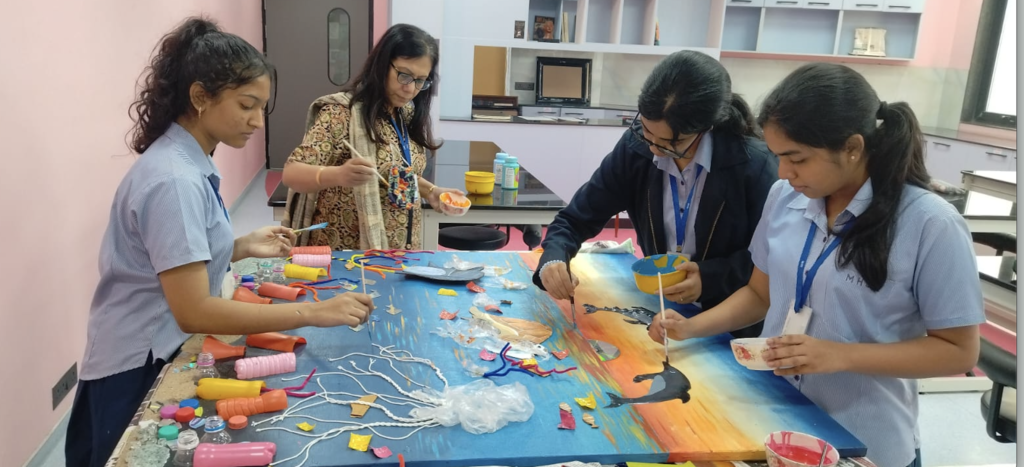 For print.
Archival Digital Print for A2 size:
On Hahnemuehle photo rag: Rs. 10,300/-
On Hahnemuehle canvas: Rs.11,110/-