Metanoia
5'6 feet
By Adaa Chowdhury, Anandi Gupta, Nishikaa Vaid, Pukhraj & Khiwama Rai
from, Mayo College Girls' School, Ajmer
Material used:
Waste Wood, cardboard, empty oil tins, newspaper, empty juice boxes, m seal, fevicol, macrame threads, discarded mannequin, metal roads, paint, discarded artificial flowers, flower pot,
The sculpture that we have tried to make is in the form of a pillar, along with a bust on top of it. The torso of the bust is hanging from the wooden plank on which the bust is placed. This torso has a plant inside of it. The pillar appears to be broken and is symbolic of destruction. The plant inside the torso is the symbol of regeneration. We have tried to show the process of evaluation, which is that something has to get destroyed in order for something new to be built. The female bust is white is color with her hair covering the pillar and a tiara on its head. The pillar is painted brick gray with small piece of broken brick all round it. The torso of the bust is painted in different colors, depicting life and happiness, while everything in the sculpture is between white and black.
Price: Rs. 15,000/-
The Team.
from left to right, Pukhraj, Anandi Gupta, Adaa Chowdhury, Nishikaa Vaid & Khiwama Rai.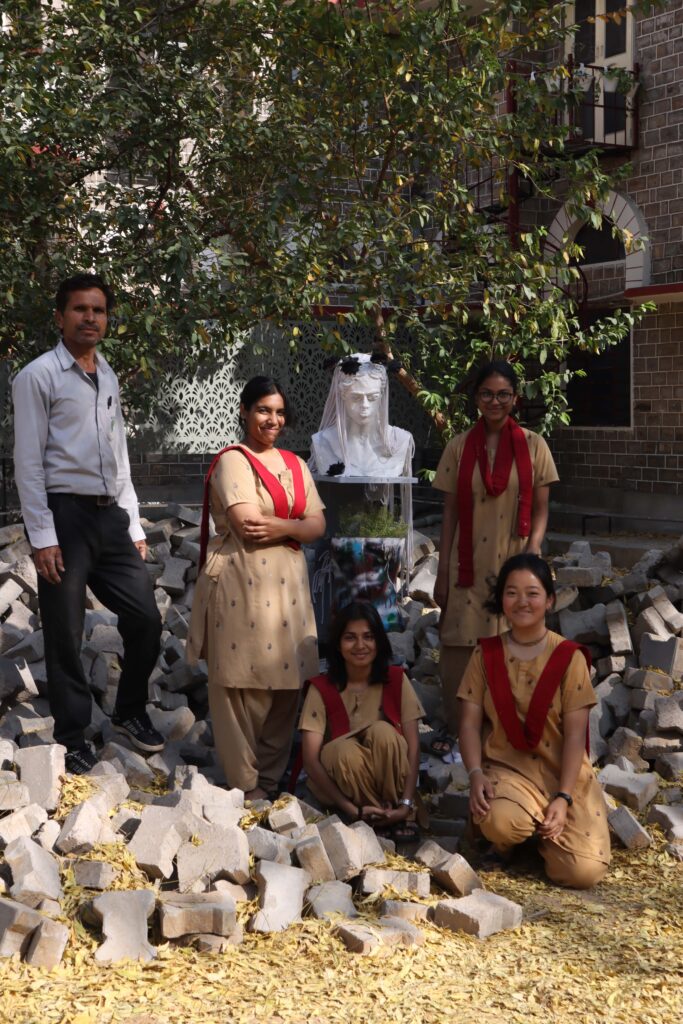 For print.
Archival Digital Print for A2 size:
On Hahnemuehle photo rag: Rs. 7,650/-
On Hahnemuehle canvas: Rs.8,450/-